custom built
Concealed Gun Cabinets for Peace of Mind
The perfect alternative to bulky gun safes, concealed gun cabinets slyly hide firearms and ammunition where no one would expect. Accessible behind a moveable panel, gun cabinets are custom built to house your collection between the studs of a wall. These are better concealed than any other type of gun storage you can buy.
Covert Concepts helps you keep guns secure at home and accessible in case of an emergency, without compromising safety and security. We offer a free consultation to discuss the size and location of your gun safe as well as offer a professional recommendation on ways to conceal it. Plus, we understand guns come in all shapes and sizes and can be expensive, collectible, antique, or rare. Each cabinet is built with your investment in mind. Our concealed gun cabinets include adjustable shelving, velcro padding to protect your firearms, attach holsters and add accessories.

family safety
The Safest Way to Keep Concealed Guns at Home
All too often, there is another news story about a gun accident at home. Traditional gun storage solutions simply aren't working. Are you guilty of storing your pistol in your nightstand or dresser drawer? Then it is time to consider implementing Covert Concepts to protect the ones you love.
Visible gun safes attract too much attention from children or intruders. Gun racks make firearms overtly accessible. Burglars are becoming all too familiar with common hiding places. Prevent firearm theft and accidents with a Stealth Wall concealed gun cabinet by Covert Concepts.

Call Us Now
Are you ready to take the next step towards protecting your family?
Call us today for a free consultation or inquire about our other hidden storage solutions.
Call Us
ideal storage solution
Hidden Safes in All Places
Do you have small valuables in your home that require more protection than the average store bought safe can offer? Hidden safes come in a variety of shapes and sizes and are the ideal concealed storage solution to keep guns, ammunition, jewelry, or cash secure and out of sight.
Hidden safes are designed not only to be functional but also to become a stylish part of your home or office décor. The safe is mounted flush into the wall in the unused space between the studs. A mirror, corkboard, or picture is mounted over the safe, allowing it to appear as a natural part of the home and leaving your valuables undetectable. This is the creative storage solution you have been looking for that no one else will ever find.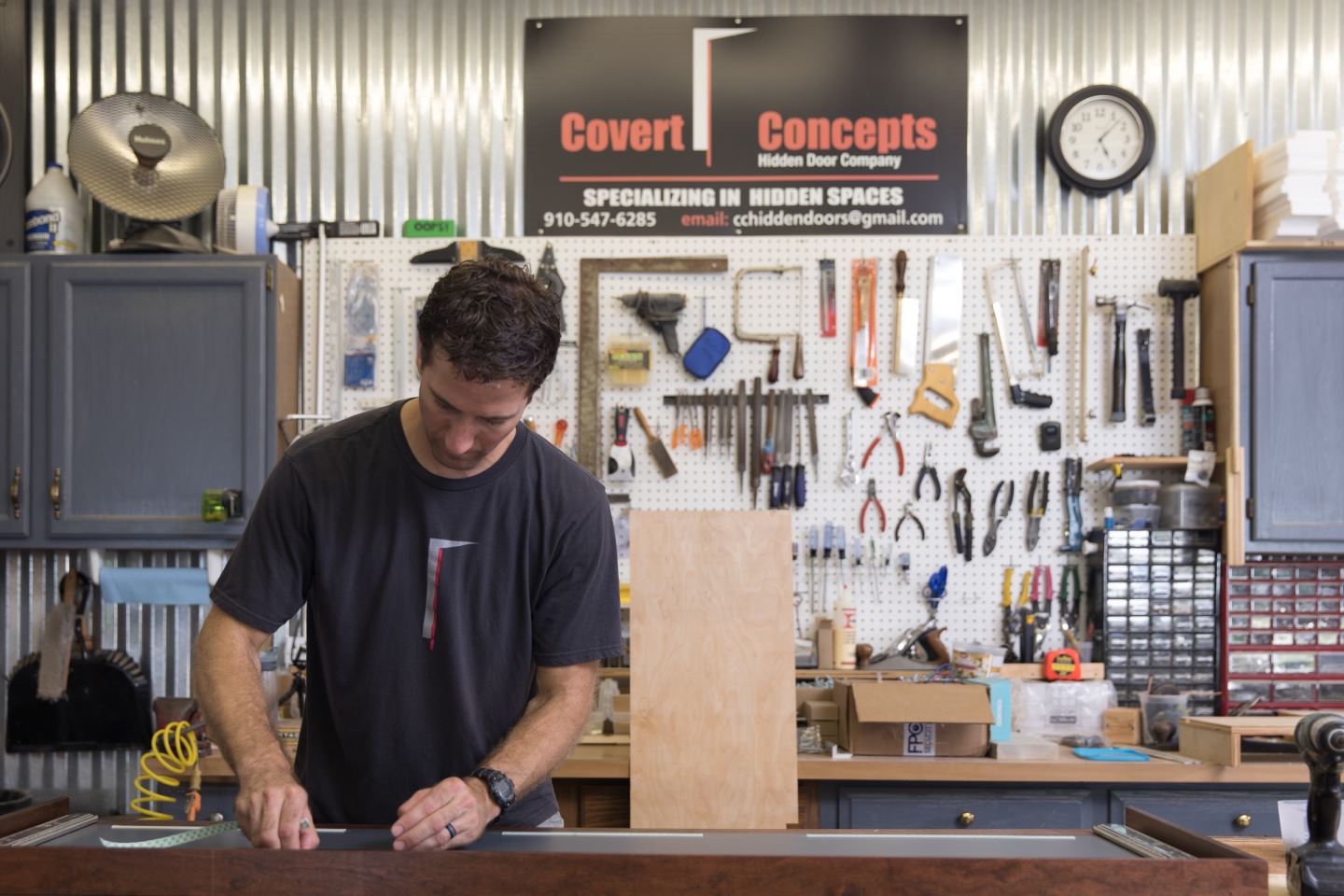 family safety
Hidden Safes Protect Your Greatest Treasures
Intruders are becoming more cognizant of common gun storage solutions: in the nightstand, under the bed, or in the closet. Do not fall victim to gun theft or violence in your home. Instead, install a hidden safe that is undetectable yet quickly accessible in the face of danger.
Not only do wall safes protect your valuable belongings from theft, they keep guns and ammunition away from children and other loved ones. Hidden safes securely store weapons out of their reach while the aesthetic of the décor keeps their curiosity at bay. Help prevent accidents in your home by concealing weapons with a safe from Covert Concepts.

Protect your family and your household.
Shop our collection of hidden wall safes and add secret storage to your home today.
Shop Now